Scarlet Pearl Cruise
Style: Modern
Launched: 2019
23 Cabin(s)
Free kayaking Cooking class Swimming
What travelers love about this cruise
As the best luxury cruise in Halong Bay, 
Scarlet Pearl is unique in its commitment to sustainable, environmentally-sound luxury travel 
Scarlet Pearl with various activities in Lan Ha Bay that offer unforgettable experiences with the locals and immerse yourself in its beautiful nature. 
Available at all time with Scarlet Pearl's on-cruise 5-star services 
All balonny guarantee in each room 
Exploring "off the beaten track" route in Lan Ha Bay and Halong Bay 
Cabin & Rates (Best Price Guaranteed)
Scarlet Silver Pearl

16 Rooms
Balcony Ocean view
Double/Twin
28m2 m²

enter your departure date

Choose dates to show prices

Scarlet Golden Pearl

4 Rooms
Balcony Ocean view
Double/ Twin
40m2 m²

enter your departure date

Scarlet Onyx Pearl

2 Rooms
Balcony Ocean view
Double/ Twin
60m2 m²

enter your departure date

President Scarlet Pearl

1 Rooms
Ocean view
Double
150m2 m²

enter your departure date
We are now proudly introducing our Scarlet Pearl Cruises on the world-class wonder Halong Bay. Our obligation is to create and deliver the most memorable moments that focus on the natural exploration and local cultural immerse on the way. The cruises will offer luxurious experiences to all guests staying on an architecturally designed cruise ship, classified into 23 cabins of 4 themed suites with a story to tell. All suites are featured in smart control systems which ensure the greater energy efficiency of the cruise and help relieve the burden on the environment.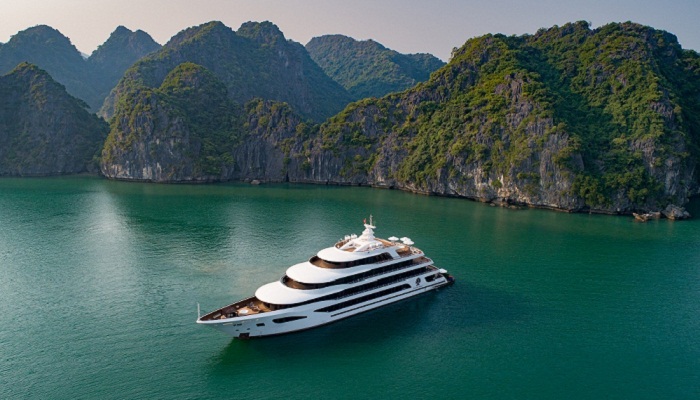 Scarlet Pearl Cruises is equipped with a real catamaran-style boat and allow our guests to explore the best spots of the bay for such unforgettable catch ever. No matter you are seasoned leisure travelers, active holidaymakers, honeymoon couples or even VIPs and celebrities, our exclusive Catamaran sailboat will bring you over the moon.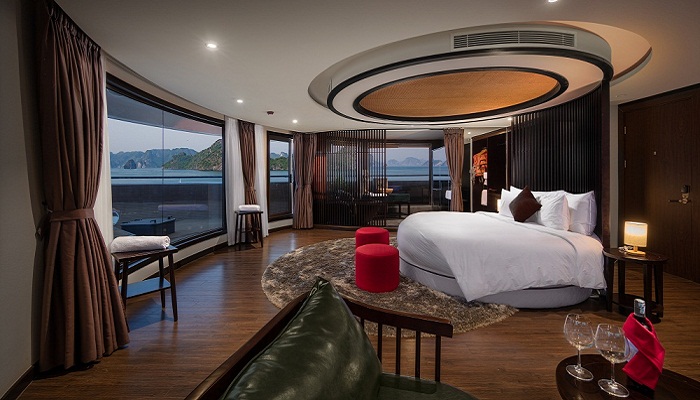 Go on an adventure with us to the breathtaking Lan  On board, we have up to 40 crew members, including a cruise director and experience manager, ensuring every need is attended to. With daily D-Car transfering between Hanoi and Gia Luan harbor upon request, the Scarlet Pearl Cruises team can bring out the best in luxury and convenience during your special vacati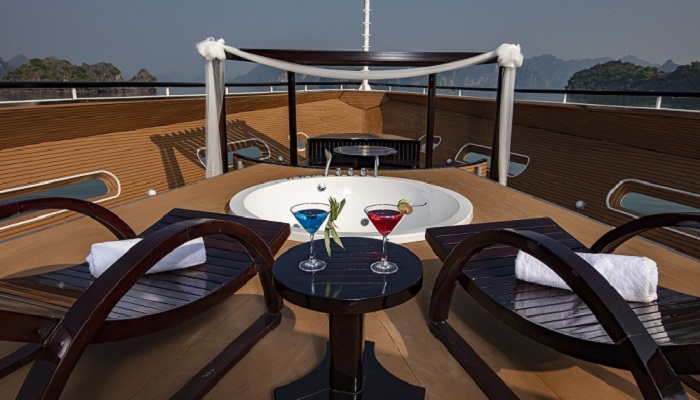 Scarlet Pearl Cruise Price Includes:
- Welcome drinks
- Private cabin on Scarlet Pearl Cruise
- Meals: 01 lunch, 01 dinner, 01 breakfast,01 brunch
- Kayaking service
- Entrance fees and sightseeing fees.
- Insurance on-board
Scarlet Pearl Cruise Price Excludes:
- VAT
- Visa price
- Airfares, transportation to and Lan Ha Bay and airport service
- Spa service
- Other beverages, tips and personal expenses
- Policy for single and extra bed:
- The third person using extra bed: price as one adult
Children Policy & Extra Mattress:
- Children under 05 years old: free of charge if sharing a cabin with parents 
- Children above 05 - under 11 years old: 75% adult rate, sharing a cabin with parents
- Children from 11 years old and above are considered as adults 
- One Cabin is for maximum 2 passengers and 1 child under 11 years old, sharing bed with parents. An extra mattress will be set up upon availability.
Transfer Hanoi - Halong - Hanoi options:
- Shuttle bus shared limousine 10 or 16 seated: $34/person 2 ways
- Shuttle bus shared 29 seated: $26/person 2 ways
- Private car 4 seated: $150/car/ 2 way
- Private car 7 seated: $165/car/2 ways
- Private mini van 16 seated: $180/minivan/2 ways
TOUR PRICE |
Only From :
$185$175
Comment
Score breakdown
Cruise quality

10

Food/Drink

0

Cabin quality

0

Staff quality

10

Enter/act

0
We believe that the success of every tour lies in the customer's happiness. With the goal of optimizing a joyful experience for every traveler, we always listen to
your wishes and desires to offer the best private tailor-made tours to be your exact needs & tastes and also take care of your trip from start to end.
That will be your "Dream Travel to Happy Customers"