Heritage Cruise Lan Ha Bay
Style: Modern
Launched: 2019
25 Cabin(s)
What travelers love about this cruise
Cabin & Rates (Best Price Guaranteed)
Heritage Delta Suite

6 Rooms
Ocean view
Double/Twin
33m2 m²

enter your departure date

Choose dates to show prices

Heritage Ocean Suite

10 Rooms
Superior view
Double/Twin
33m2 m²

enter your departure date

Heritage Captain Suite

2 Rooms
Balcony Ocean view
Double/Twin
38m2 m²

enter your departure date

Heritage Regal Suite

2 Rooms
Superior view
Double
46m2 m²

enter your departure date
One of Vietnam's most loved gifts to the world is its cuisine. Vietnamese food knows no borders and is appreciated for its freshness and unique mix of textures, flavors and aromas.
Heritage Cruises takes you on a culinary journey offering plenty of venues to eat, drink and relax. You will have plenty to discover at our two restaurants, indoor and outdoor lounges, wine cellar and a delightfully fun pool bar – situated between a swimming pool and a pool table.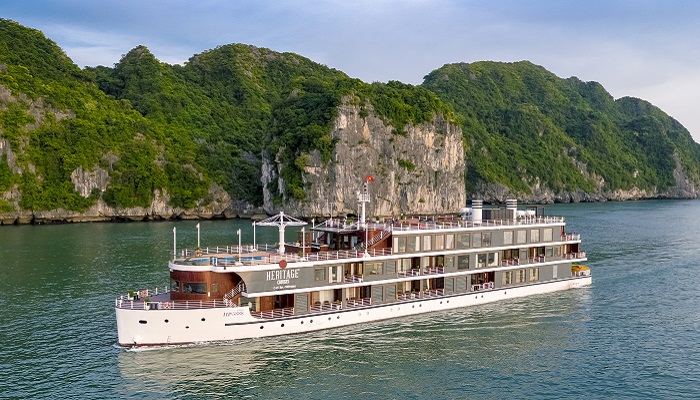 Bach Dang Wine Cellar
In 938AD, Ngo Quyen led his forces at the Battle of Bach Dang River, close to Halong Bay and the Cat Ba Archipelago, to defeat the invading forces of the Southern Han, a Chinese state, and put an end to centuries of Chinese domination in Vietnam.
At high tide Ngo Quyen lured the enemy up the river, where he had secured poles in the riverbed. At low tide the Han found their ships impaled on the poles and they subsequently sunk. Ngo Quyen's tactic would later be reused by Tran Hung Dao in another battle at Bach Dang River, this time against the Mongols, in 1288.
Named after these celebrated battles, the Bach Dang Wine Cellar has a winning selection of wines. You can visit our Wine Cellar with our sommelier or cruise director to choose the best wine to complement your menu choice at dinner in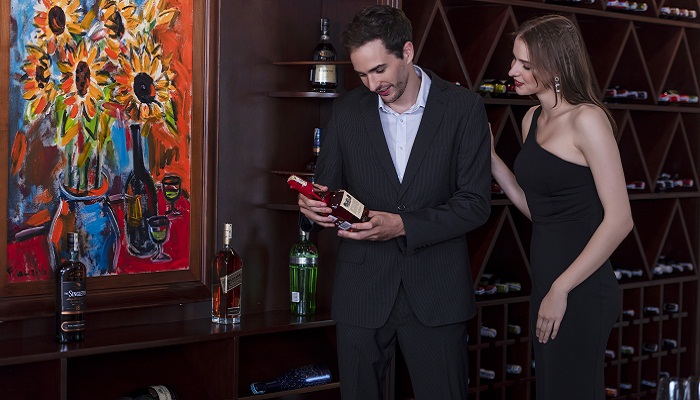 Le Tonkin Restaurant.
Using the old name of North Vietnam in French Indochina, the décor of Le Tonkin, where your evening meal is served, reflects the nostalgia of traditional Tonkin.
Our cuisine has the freshest and finest ingredients that are available and takes our guests on a culinary journey. Every course is infused with creativity and served with passion.
Our extensive wine list is selected by sommeliers, in consultation with our chefs, to ensure that your wine choice complements the cuisine from our kitchen. Whether you seek contemporary cuisine or classical perfection, our chefs are there to serve a dining experience that transcends the genre, raises the bar, and creates a lasting impression.
This attention to detail, combined with the attentive but discreet service by our staff, matches the standards set in the world's finest hotels. A meal in Le Tonkin gives you an experience that is as delicious as it is unforgettable.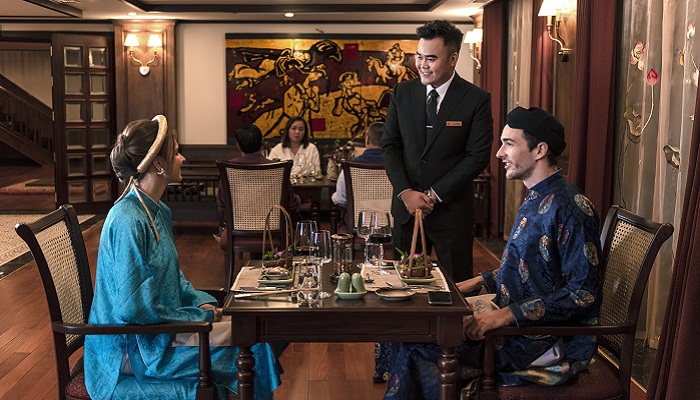 L'Indochina
The culinary experience aboard Heritage Cruises is meant to inspire you to discover more about Vietnam, as food is such an integral part of the travel experience. You will not only enjoy new and classic flavors, but also a taste of the culture of this beautiful region.
Indochina is a geographical term originating in the early 19th century and referring to the continental portion of the region now known as Southeast Asia. The term was later adopted as the name of the colony of French Indochina including Vietnam (Tonkin (North Vietnam), Annam (Central Vietnam), Cochinchine (South Vietnam)), Cambodia, and Laos.
L'Indochine Restaurant is located on the Panorama Deck and enjoys stunning views. Our guests take breakfast, brunch de luxe and lunch here, either indoors or outdoors, whatever your preference.
At Heritage Cruises dining is not just about the menu. We craft dining experiences and our carte du jour is in the capable hands of Iron Chef, whose passion for gastronomy results in a fine-dining experience involving local and fusion cuisine drawing on Asian and Western influences. Our sommelier can also help you to choose your favorite wines from our wine cellar.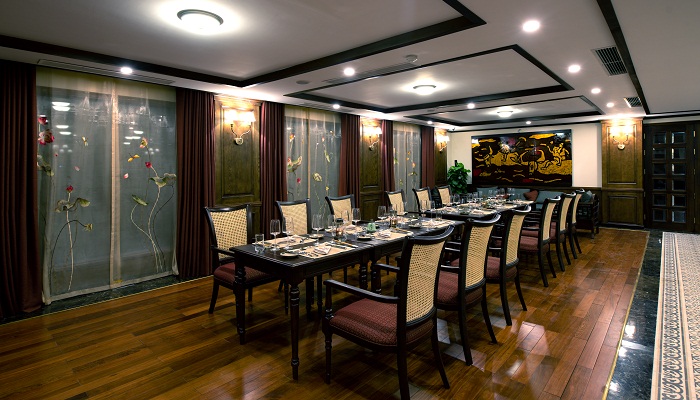 Pool Bar
Boutique cruises are intimate in scale, creating the ambiance of being a personal guest in a private floating home away from home, rather than just a cruise passenger. You often have communal "social spaces" where you can interact.
Enjoy the leisurely atmosphere at our stylish swimming pool and Pool Bar, a social area for swimming, cocktails and for fun.
The Pool Bar is located between the Song Hong Lounge and the Pool and here you can savor a cocktail or a chilled glass of wine in the rooftop bar.  Soak up the sun, have a dip in the pool and then swim up to the poolside cabana for a refreshing drink while checking out the panoramic views of the islands in Halong Bay or the Cat Ba Archipelago. What more could you want from a vacation?
The fully stocked pool bar, which is open until late, has a fine selection of wines from the new and old world as well soft drinks and healthy snacks.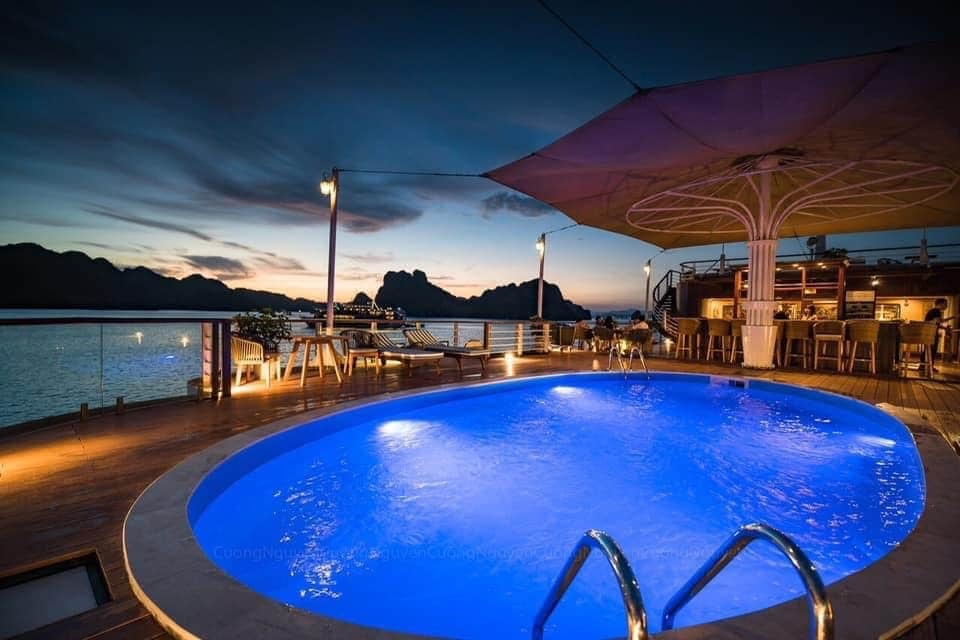 Terms & Conditions:
- The above prices are applied for a double or twin room, sercharge for guests staying in single room
Heritage Cruise price Includes:
- Entrance fees, Taxes and Service Charge
- English speaking guide on boat
- Luxury accommodation with A/C, bathtub & shower
- Welcome Cocktail
- Sunrise Tai Chi Class
- Insurance on board
- Meals as mentioned
+ 2 days 1 night cruise: 1 Breakfast, 1 Lunch, 1 Dinner, 1 Brunch
+ 3 days 2 nights cruise: 2 Breakfasts, 2 Lunches, 2 Dinners, 1 Brunch
Heritage Cruise price excludes:
- Shuttle bus pick up and transfer to Halong 30USD/person/2 ways, drinks,  personal expenses and other expenses not mentioned in the program
Children Policy & Extra Mattress:
- Children under 05 years old: free of charge if sharing a cabin with parents 
- Children above 05 - under 11 years old: 75% adult rate, sharing a cabin with parents
- Children from 11 years old and above are considered as adults 
- One Cabin is for maximum 2 passengers and 1 child under 11 years old, sharing bed with parents. An extra mattress will be set up upon availability.
Transfer Hanoi - Halong - Hanoi options:
- Shuttle bus shared limousine 10 or 16 seated: $34/person 2 ways
- Shuttle bus shared 29 seated: $26/person 2 ways
- Private car 4 seated: $150/car/ 2 way
- Private car 7 seated: $165/car/2 ways
- Private mini van 16 seated: $180/minivan/2 ways
TOUR PRICE |
Only From :
$206
Comment
Score breakdown
Cruise quality

10

Food/Drink

0

Cabin quality

0

Staff quality

0

Enter/act

0
We believe that the success of every tour lies in the customer's happiness. With the goal of optimizing a joyful experience for every traveler, we always listen to
your wishes and desires to offer the best private tailor-made tours to be your exact needs & tastes and also take care of your trip from start to end.
That will be your "Dream Travel to Happy Customers"