Indochine Cruise Halong Bay
Style: Modern
Launched: 2019
43 Cabin(s)
What travelers love about this cruise
Cabin & Rates
Indochine Junior Suite

34 Rooms
Ocean view
Double/Twin
32m2 m²

enter your departure date

Choose dates to show prices

Indochine Suite

8 Rooms
Ocean view
Double/Twin
42m2 m²

enter your departure date

Indochine Executive Suite

2 Rooms
Ocean view
Double/Twin
54m2 m²

enter your departure date

Indochine President Suite

1 Rooms
Balcony Ocean view
Double
80m2 m²

enter your departure date
Indochine Cruise is a pioneer among Halong Bay cruises and Lan Ha Bay cruises, having amassed over 20 years of experience sailing through Vietnam's premier seascape. The company's newest venture sets its sights on new records, presenting a new itinerary and the largest luxury cruise in Lan Ha Bay. 43 cabins on Indochine cruise are all home to 5-star comforts, including a balcony and between 32m² and 80m² of space. All suites come with a personal Jacuzzi, while guests at all levels are invited to make use of the giant communal hot tub on the 3rd deck. Along with this, the spacious sundeck, sultry lounge, spa centre, international bar and two beautiful restaurants complete a luxury cruise bringing new horizons to Lan Ha Bay.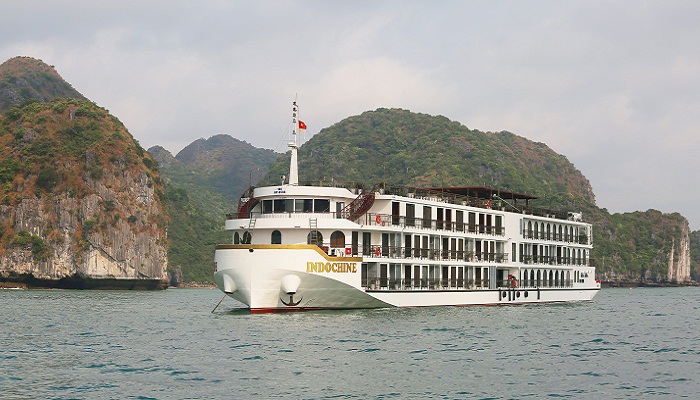 Cochinchine Lounge
Take the time to relax Cochinchine Lounge on dark furnishings accentuated with vibrant cushions and throws; the bay outside the arched windows provides excellent viewing opportunities to the sounds of live piano music.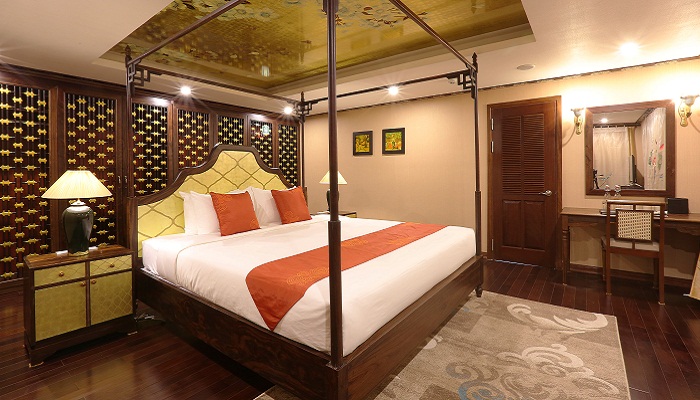 Restaurant & Bar
'Tonkin' restaurant is run by award winning chefs. The architecture of the dining area adheres to a vintage colonial past with art galleries and antiques. Our bar stays open late into the night for anyone making the most of Lan Ha's captivating evening air, serving a great selection of local and international beverages.

Spa & Gym
The elegance of Indochina and the luxury of Lan Ha Bay cruising combine in the Spa, located on the second deck of Indochine Cruise. Our spa is a private sanctuary for passengers, who can match the lull of the bay with a soothing massage, body scrub or herbal treatment. Our professional masseuses are trained to a 5-star level and are proud to display age-old techniques perfected by the Vietnamese people.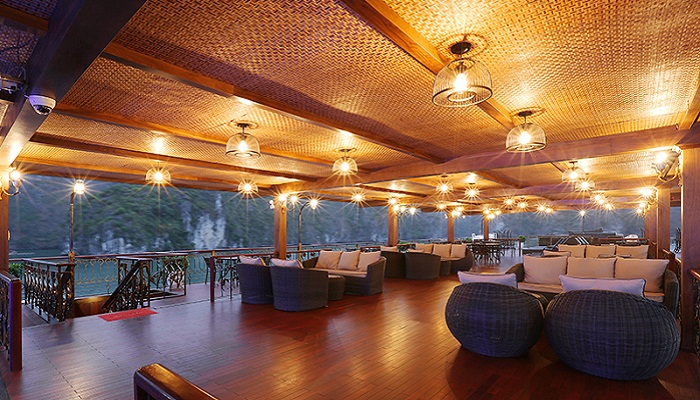 Sundeck
From sunrise to sunset, the crown of Indochine Cruise sits atop the beautiful sundeck. The long deck is crafted from smooth burnished wood and features exquisite seating options, lined up with an open-air view of the majesty beyond. Start the day here with tai chi and the cool of the wood between your feet, or spend an evening watching moonlight dance on the water and listening to the ambient soundtrack of Lan Ha Bay.
Indochine Cruise Price Includes
- Welcome Drink
- Cruise Itinerary and Program
- Kayaking
- Entrance and Sightseeing Fees
- In-house English-speaking Tour Guide
- Luxurious Cabins and Suites with A/C and en-suite Bathrooms
- Deluxe Vietnamese and International Lunch and Dinner
- Vietnamese and International Breakfast
- Conference Equipment (Charter only)
- Insurance, Taxes and Service Charges
Indochine Cruise Price Excludes
- Airfares, Car Transfers and Hotels
- Visa Arrangements
- Massage Services (please see massage menu in cabin)
- Beverages, Tips and Personal Expenses
- All other services not clearly mentioned above
Children Policy & Extra Mattress
- Children under 05 years old: free of charge if sharing a cabin with parents 
- Children above 05 - under 11 years old: 75% adult rate, sharing a cabin with parents
- Children from 11 years old and above are considered as adults 
One Cabin is for maximum 2 passengers and 1 child under 11 years old, sharing bed with parents. An extra mattress will be set up upon availability.
Transfer Hanoi - Halong - Hanoi options
- Shuttle bus shared limousine 10 or 16 seated: $34/person 2 ways
- Shuttle bus shared 29 seated: $26/person 2 ways
- Private car 4 seated: $150/car/ 2 way
- Private car 7 seated: $165/car/2 ways
- Private mini van 16 seated: $180/minivan/2 ways
TOUR PRICE |
Only From :
$181$175
Comment
Score breakdown
Cruise quality

0

Food/Drink

0

Cabin quality

10

Staff quality

0

Enter/act

0
We believe that the success of every tour lies in the customer's happiness. With the goal of optimizing a joyful experience for every traveler, we always listen to
your wishes and desires to offer the best private tailor-made tours to be your exact needs & tastes and also take care of your trip from start to end.
That will be your "Dream Travel to Happy Customers"